Critical action checklists are recognized as a key safety tool in the aviation industry. MicroPilot's HORIZONmp incorporates tools to let you tailor critical action checklists to your requirements.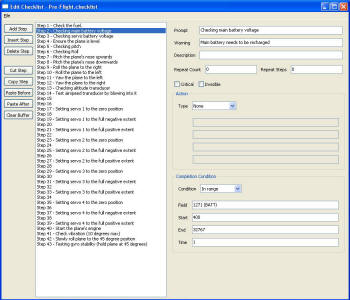 Unlimited user defined checklists allow to define checklists for safety critical actions.
Prompt and Warning message for each step allow you to inform the UAV operator of the criticality of the checklist.
Invisible steps allow you to build sophisticated checks without burdening the UAV operator.
Critical and non-critical steps inform the UAV operator when the mission may not go ahead.
Failure count for each step lets you limit the number of UAV operator retries.
Configurable action for each step: set value, execute command, sweep field, Flash settings, Modify recovery point and Modify Waypoint.
Configurable Completion Condition for each step: user pass/retry/fail, user check, user yes/no, Field Inside Range, Field Outside Range, All in Range, and All Outside of Range
Checklist logging lets you monitor the appropriate use of checklists.