ADC (Analog to Digital Converter)
The MicroPilot autopilot can support two external analog-to-digital converters (ADC). Using ADCs, you can display data from external sensors on the HORIZONmp ground control station.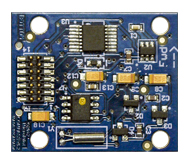 COMPASS
The MicroPilot compass is a 3-D compass that compensates for pitch and roll. This accessory is useful when flying in high winds as it gives an accurate indication of where the nose of the plane is pointing, unlike the GPS heading which is the direction the plane is heading.
Provides heading information
Provides wind velocity and direction
Allows for greater tolerance of high winds
Provides dead reckoning capabilities
Provides heading information with no speed -- used for hovering applications
3-D aircraft capable -- it provides accurate heading information even during banked flight, unlike the accelerometer-based 3-D compass
2.6 cm x 3.2 cm
---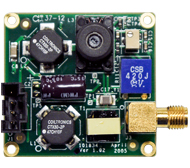 AGL
The AGL board is an optional ultrasonic altimeter that provides high-resolution altitude information up to an altitude of 16 feet. The AGL board allows for autonomous takeoff and landing of your UAV.
Highly accurate above ground up to 15 feet (+/- 1 foot)
Allows for autonomous takeoff and landing
Allows flare
---