Overview | Training & Integration | XTENDER | Custom Development | Flight Facility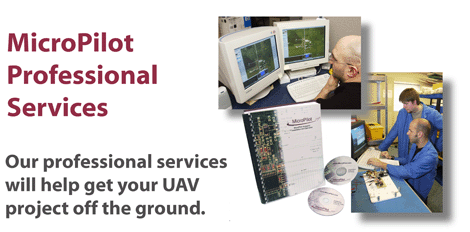 MicroPilot UAV Autopilot Training
Shortcut your learning curve with the five day MicroPilot UAV autopilot's course. The course consists of two days in the classroom and three days on the flight line. The course covers autopilot installation & checkout, configuring MicroPilot accessories, operating and configuring the Horizon GCS, flight testing, adjusting feedback gains and parameter setting. The course culminates in three days of actual flying with a small UAV where you put into practice the skills learned in the classroom.
The MicroPilot UAV autopilot training will give your project the edge. MicroPilot UAV autopilot training is available either at MicroPilot's location or at your location.
MicroPilot Integration Assistance
When your place doesn't work, try ours. Send your team and airframe to the MicroPilot UAV Flight Facility and take advantage of our workshops, equipment, runways and most of all, UAV experience. Our expert technicians will assist your team integrating the MicroPilot autopilot and accessories into your airframe. You will also have access to our flight facility where you can test fly your airframe to adjust and tune the UAV autopilot and accessories for your airframe.
On-Site Training Integration Assistance
When time is critical, take advantage of MicroPilot's on-site integration and flight testing assistance. A MicroPilot expert technician will come to your site to assist in the integration of the MicroPilot autopilot and accessories into your airframe. Followed with intensive test flying to adjust and tune the autopilot and accessories with your airframe.
MicroPilot One Step UAV Integration Service
If you don't have the time or the expertise to take your project from the drawing board to the sky, take advantage of the MicroPilot One Step UAV Integration assistance. Ship your UAV to the MicroPilot Flight Facility and our team will take it from there. From installation through configuration to final flight testing our team of experts will do what it takes to make you a success.