MicroPilot's Next Generation Autopilot is Here
MicroPilot has officially released its anticipated next generation autopilot. The release of the MP2128HELI3 marks a new era by meeting increasing reliability demands with a next generation, safety-focused autopilot.

June 16, 2021 – Stony Mountain, Canada – MicroPilot Inc. announced today the release of their next generation autopilot. The MP2128HELI3 is MicroPilot's third generation autopilot and comes with increased safety, reliability, and processing power.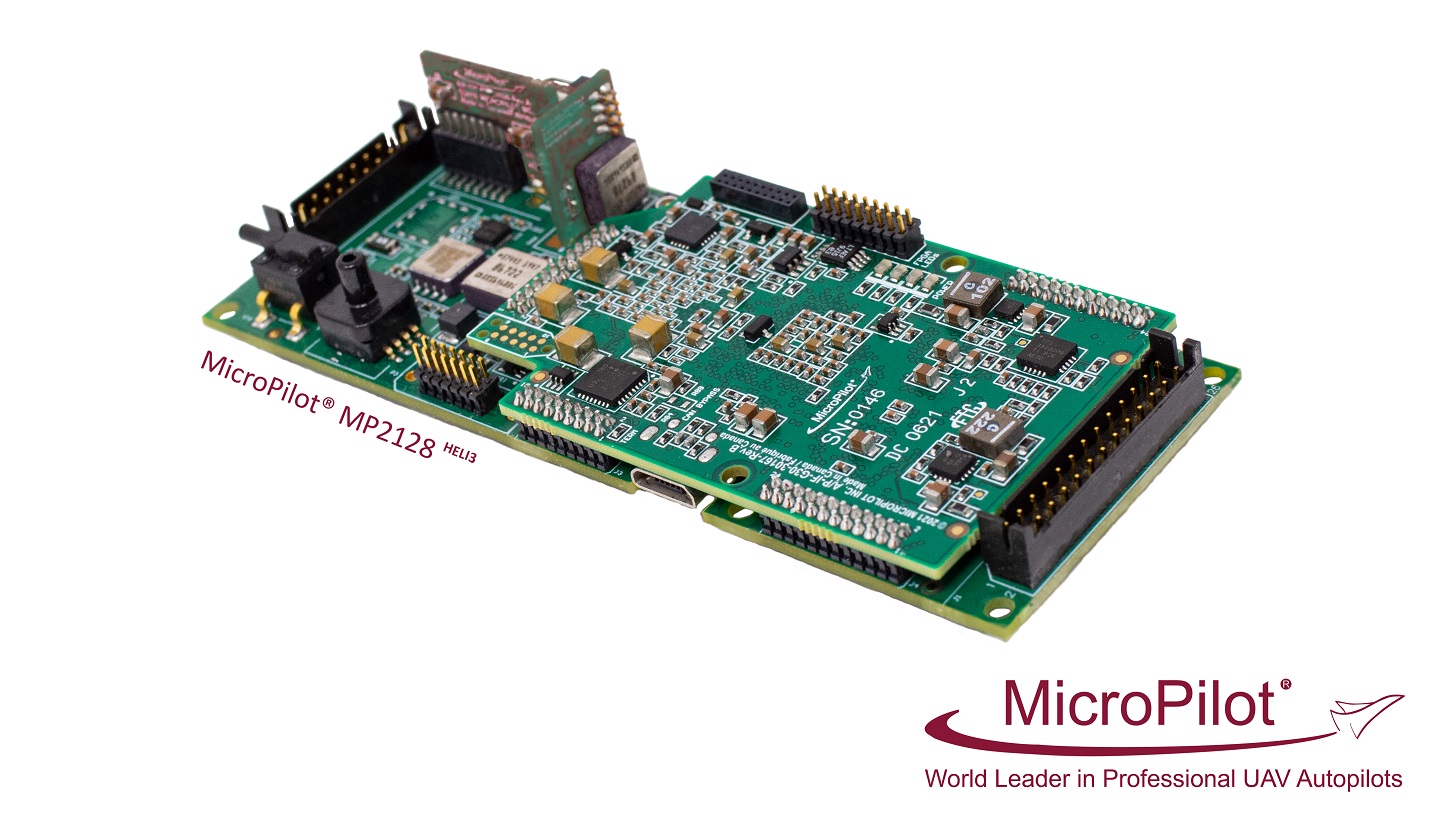 This marks the first time a UAV autopilot has been released with a focus on safety to this degree. While some current generation processors on the market offer more processing power, the MP2128
HELI3
autopilot is based on a new processor and microprocessor, both designed for safety critical applications.
The most highlighted features of the MP2128
HELI3
include 6.5 MB of error correcting RAM and 4 MB of error correcting Flash to improve the reliability of the autopilot's memory. In addition, the new Dual-core lockstep processor has four times the processing speed of the previous generation.
The MP2128
HELI3
is also the only UAV autopilot to take advantage of an aerospace grade partitioned operating system. The AIRINC 653 partitioned RTOS divides MicroPilot's autopilot software into partitions, where each partition can be certified at the appropriate DO-178C design assurance level. Partitioning dramatically reduces the cost of certification and provides tremendous flexibility for future enhancements. Partitioning also isolates failures in one partition from affecting other partitions, increasing the overall reliability of the MP2128
HELI3
.
"We are delighted to be launching the third generation of our flagship MP2128 HELI3 autopilot,"
said Howard Loewen, President and CEO of MicroPilot Inc.
"Safety is hard, a faster cheaper processor would have been the easy choice, but a processor designed for safety applications was the right choice."
UAV manufacturers familiar with previous generations of MicroPilot's autopilots will be able to easily shift to the new generation autopilot. The MP2128
HELI3
maintains the same form-factor, connectors, and I/O ports as the previous generation for a seamless transition.
The MP2128
HELI3
is available now. For more details, please visit our website at
https://www.micropilot.com/products-mp2128heli3.htm
About MicroPilot
Started in 1994, MicroPilot is the world leader in professional autopilots for UAVs and drones. MicroPilot is an ISO 9001 certified autopilot manufacturer that markets single-board autopilots, enclosed autopilots, and a triple redundant autopilot. MicroPilot offers a family of lightweight UAV autopilots that can fly fixed wing, transitional, helicopter, and multirotor UAVs. MicroPilot also provides complementary products such as the XTENDERmp, SDK, and trueHWIL2. MicroPilot autopilots have been purchased by more than 1,500 customers in 100 countries.