MicroPilot 2128g UAV Autopilot Flies at Farnborough International Airshow 2010
For the first time since its inception, the Farnborough International Airshow incorporated UAV flight demonstrations this past July. MicroPilot's MP2128g autopilot performed in Bluebird Aerosystem's MicroB . The MicroB is a small scale unmanned aerial vehicle, a perfect match for MicroPilot's light weight UAV autopilot.
September 1, 2010 - Stony Mountain, Manitoba, Canada - The Farnborough International Airshow (FIA) is considered one of the world's great aviation events. Held once every two years, the event ran July 19-25 this year. The airshow tallied US$47 billion of business and drew 228,000 visitors. Exhibitors came from 40 countries, showcasing 152 different aircraft.

Although this is the fifth FIA MicroPilot has attended, in 2010 MicroPilot's MP2128g autopilot first took flight at this illustrious airshow. Bluebird Aerosystems, leader in small and smart unmanned aerial systems (UAS) that generate real-time intelligence, chose MicroPilot's autopilot technology for their MicroB. This compact UAS, weighing only 1 Kg, is designed to fit in two briefcases. The MicroB is known for its visual recognition of elements in real-time and tactical situational awareness.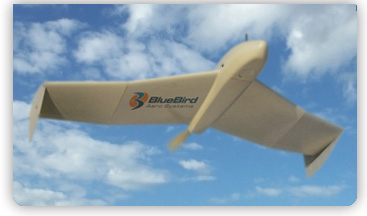 Howard Loewen, President of MicroPilot, says "The MP2128g's unbeatable combination of miniature size, low weight and advanced capabilities make this autopilot the perfect solution for the MicroB. Robust features, including GPS waypoint navigation with altitude and airspeed hold, coupled with MP2128g's minute size, more than satisfy Bluebird's flight requirements. " Moreover, MicroPilot's family of autopilots provides Bluebird with the perfect autopilot for each UAV in their product line. In Addition, MicroPilot's open architecture offers fully autonomous launch and recovery, feature-rich scripting language, and flexible communications architecture. The MP2128g also includes HORIZONmp, sophisticated ground control station software.
About MicroPilot
With 600 clients in 60 countries, MicroPilot is the world leader in miniature autopilots for UAVs and MAVs. MicroPilot offers a family of light-weight autopilots that can fly fixed-wing, transitional and helicopter UAVs. MicroPilot also provides complementary products such as the XTENDER SDK, payloads, and catapults.
Contact:
Howard Loewen
info@micropilot.com
+1.204.344.5558
www.micropilot.com
---
Read latest news