UAV's | MP-Visione | MP-TRAINERg / MP-TRAINERLRC | Buy Now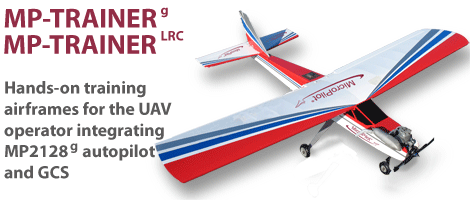 No other training airframe offers the sophisticated UAV autopilot and software integration featured in MicroPilot's MP-TRAINERs. These UAV's use a sturdy, mass-produced model airplane as the basic platform. Our MP2x28 autonomous flight control system, which includes the MP2128g autopilot and HORIZONmp Ground Control Software, makes these UAV's the essential training tool in your UAV development process. Trainer also available with MP2128LRC. MicroPilot offers these UAV's at a tenth of the price of comparable UAV's on the market today.
Specifications


Suitable for airborne experiments

Wingspan 69", wing area 793 sq inches, weight 6.5 pounds
.40 cubic inch, 1 HP, 2 cycle glow engine
MP2128g autopilot installed and pre-programmed
Cargo space approximately 70 cubic inches, ~3.5" x 7.5" x 3", max payload 2 pounds
8 ounce fuel capacity for 10 to 20 minute duration
Unit ships in a 13" x 8" x 53" box
Optional 2.4GHz Datalink.
Optional Ultrasonic AGL for autonomous takeoff and landing.
Accommodates a variety of payload options including camera capability.
MP-TRAINERLRC comes equipped with the MP2128LRC Autopilot Package, a fully-integrated flight system including complete airside and groundside packages

Quick Assembly
The plane will require less than one hour of preparation when you receive it, which involves bolting the tail on, attaching the wings and a general checkout of the system. You will need a laptop PC to modify the flight plan and a fieldkit including fuel and a glow plug igniter to fly.
Options

A separate cargo space accommodates up to 80 cubic inches or 2 pounds of whatever you want to carry.
An optional 2.4GHZ radio modem set may be ordered to enable a live telemetry feed from the aricraft. Also, the data-link will enable you to change certain functions of the aircraft while in-flight.
A separate Ultrasonic Altimeter can be ordered for your UAV to perform autonomous takeoff and landing. Our Ultrasonic AGL is highly accurate below 12 feet. The accuracy is approximately +/- 1 inch.